Welcome Back to BrainBuffet. You may have noticed a few differences on our site. After receiving input from teachers like you, BrainBuffet has redesigned its platform to be more accessible and easier to use. With the school year kicking back up, here's a roundup of all the most important changes that teachers should be aware of.
Recent Updates
(As of October 13, 2021)
Matrix Sorting questions in quizzes are now validating properly
Scrolling menu on left side of video player will now automatically scroll to the currently playing video
Added toggler on Course Progress tab of My Class page to switch between viewing individual topic completions to broader course info
Added ability to purchase Certification Exam Vouchers:

https://brainbuffet.com/product/adobe-exam-voucher-retake/
https://brainbuffet.com/product/microsoft-exam-voucher-retake/

Added welcome videos to My Class page
Inactive accounts are removed after one year of no logins
Sorted courses on My Courses page from most progress to least
Added ability to easily export grades as CSV from the My Class page
Added ability to rename groups on the My Class page
Added sorting and filtering to all columns of the My Class page Quiz and Course Progress lists
Coming Soon
Multilanguage support for Portuguese and Spanish
Transcripts for each video
Descriptions and more info for each video in the boxes underneath the video player
License Manager Dashboard – where disctrict/school purchasers can create and assign licenses to teachers

This will come with the ability for teachers to create and remove groups with set numbers of licenses

Certiport Representative Group Management Dashboard and demos
UI Changes
You may have noticed that the BrainBuffet UI looks a bit different. Here are some new tutorials for registering students and clearing your rosters.
My Class
Group Registration Link: The location of the Group Registration link has changed! You can now find it on the Class Information tab of the Teacher Dashboard. You now have the option of Viewing the URL or directly copying the URL to your clipboard. We recommend sharing this link with your students so they can start the registration process.
Instructor Files: The location of the Instructor Files has also changed! These can now be found in their own tab on the Teacher Dashboard.
Reset Passwords: It's now easier than ever to reset student passwords! Just look for this blue button on the Student Tracking tab of the Teacher Dashboard.
Rename Groups: Teachers now have the ability to name/rename their own groups! Simply click the "Edit" button next to the group you wish to rename on the Class Information tab. Don't forget to click "Save Changes!"NOTE: If the "Edit" button doesn't seem to be working for you, try clearing your cache! (ctrl/cmd + shift + R)
Toggle Topics Completed/Course Overview: This new toggler on the Course Progression tab allows you to quickly switch between the "Progression Overview" and "Topics Completed" views.

Group Leader Icon Notices: We know that some classes have more than one teacher/administrator added as group leaders. We have added an icon and a message box so you can tell exactly who is a student and who is a group leader in your groups.

Hide Other Students: The Hide Other Students button allows you to view one specific student's information at a time.
Detailed User Reports: The Detailed User Reports button will open a new tab where you can view exactly which topics, projects, and assessments have been marked complete for each course. Her group leaders also have the ability to manually mark topics or even entire courses complete by clicking the checkbox next to each one.

Certificates: Once a student has hit 100% completion, teachers can generate a PDF certificate by clicking the Certificate button found in the detailed user report.

My Courses
At a glance, we can view completion progress as well as quiz scores. Courses are now more accessible so students can quickly pick up where they left off. Click on the Course Icon to get to the course videos, or view your recent quiz scores by pressing the green area.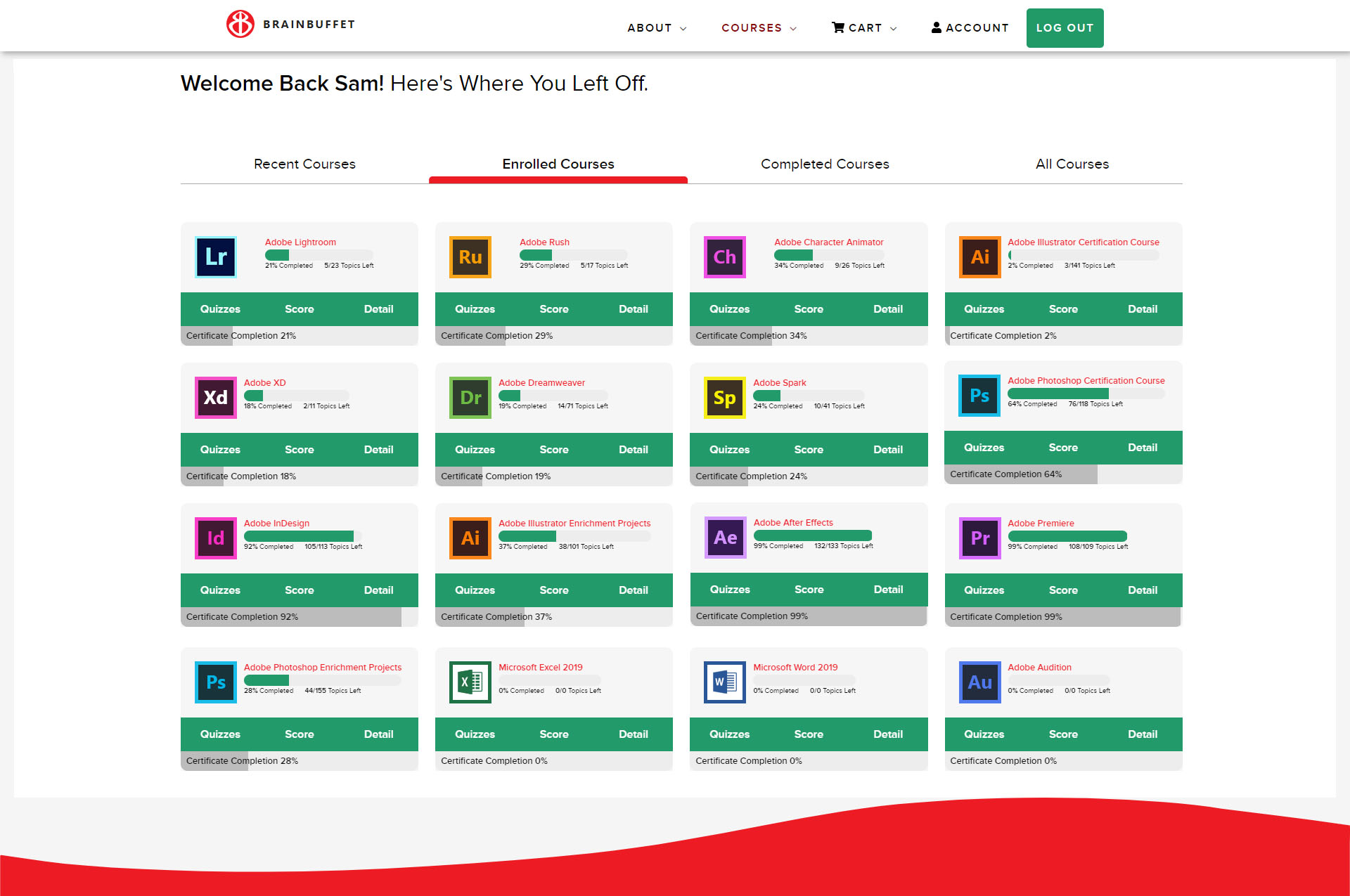 Student Video Dashboard
Student Files: you can find student files right in the Course Navigation! It should be the first project in every course. You can also find Student Files in the Resources Tab at the bottom of the page.
Light & Dark Mode: New quality of life feature so viewers are in better control of their learning environment.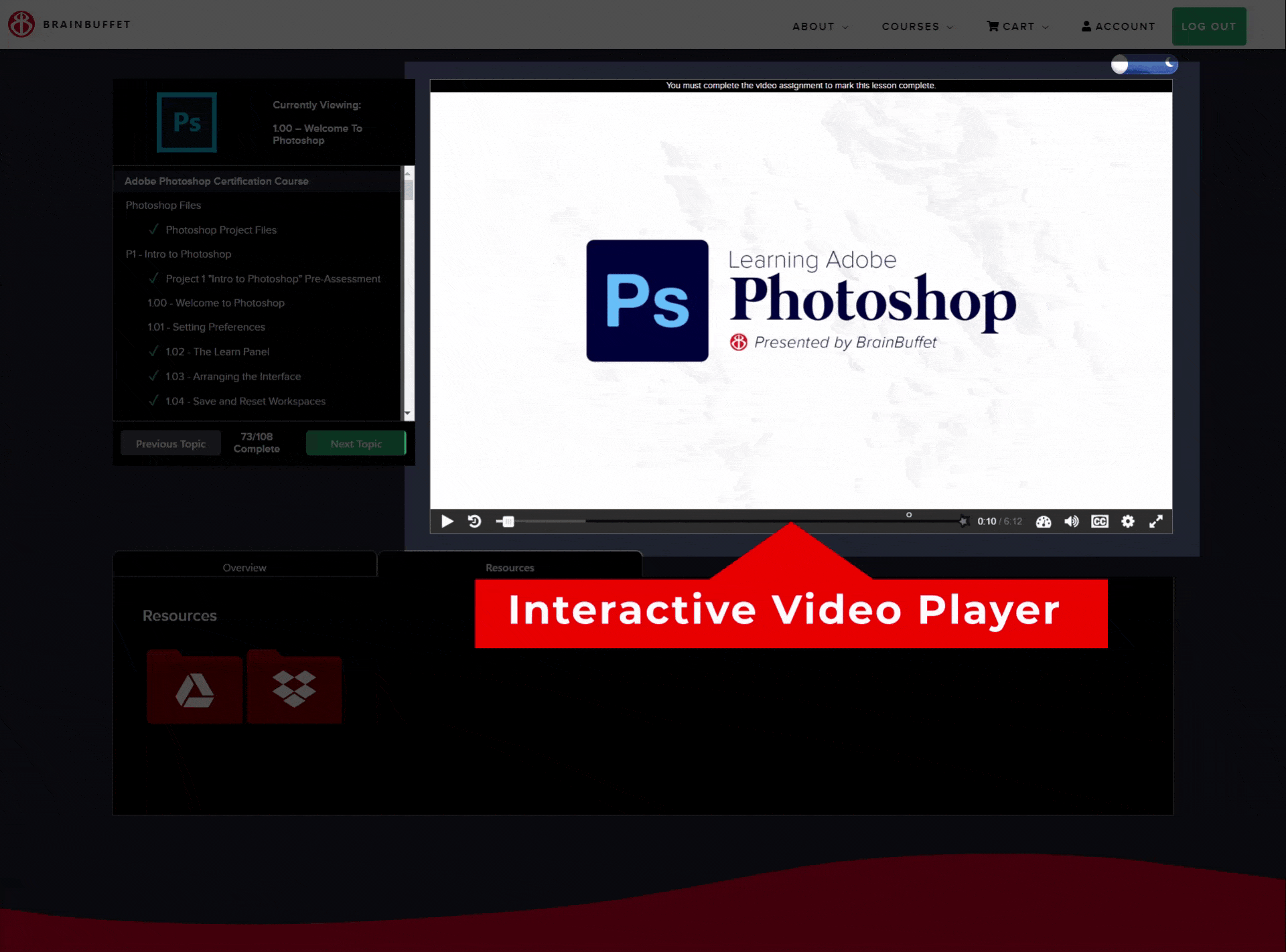 Certify From Home
The pandemic has certainly thrown a wrench into the school year. Many teachers haven't been able to certify their students so we've partnered with Certiport to be able to deliver certification exams to any student's computer. Head on over to The Packages Page to learn more and start the registration process. Once you have enrolled in a voucher, you'll be able to access the test on the My Courses Page.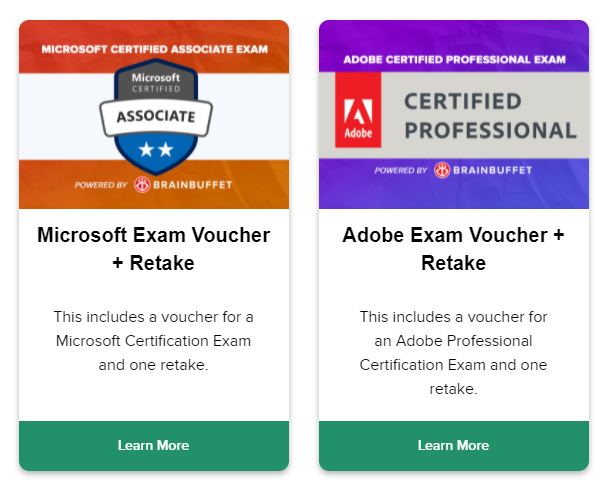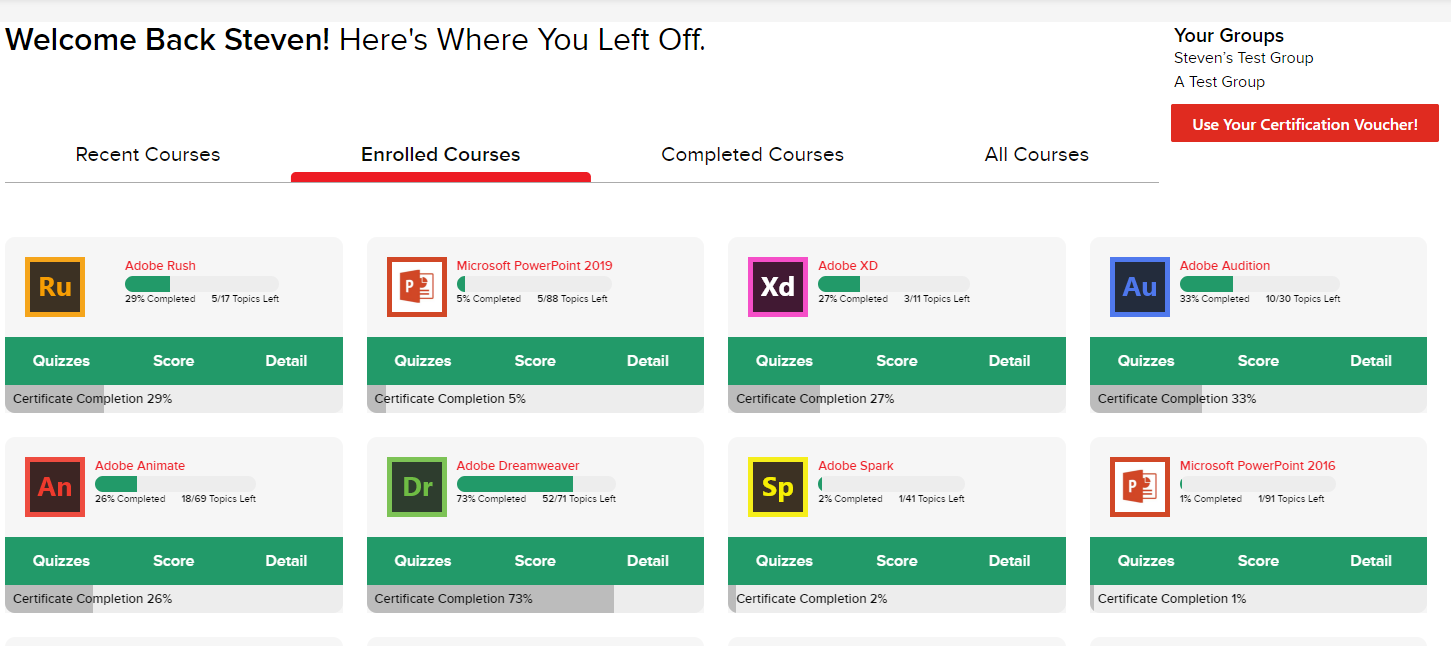 Curriculum PS & AI
Evergreen Model: The BrainBuffet team has been working on re-vamping the Photoshop and Illustrator courses, using a mix of new content and the best of our current and previous content. With the new evergreen model, we will be able to make small changes as we go to keep up with the most current updates to the program and to the certification test, rather than labeling the courses by year (CC15/CC18/CC21).
Illustrator Project Outline – Based on feedback from teachers, we're reverting back to the projects from Illustrator CC 15. However, we will be re-recording these CC15 projects in the new CC21 program in the near future. Below are the tentative projects that we will be keeping for the new evergreen Adobe Illustrator Certification Course.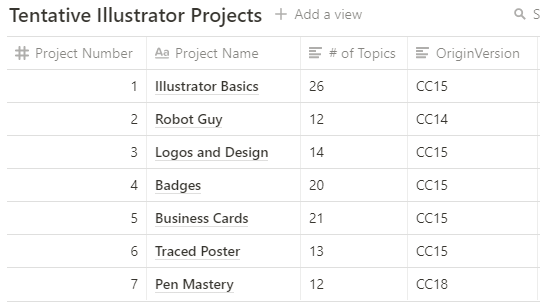 Enrichment Courses: The "Photoshop Certification Course" is the one your students should work in if they are preparing for the certification exam. The "Photoshop Enrichment Projects" course is what your students should work in if they need or want any extra material. Enrichment Courses are made up of mostly old and vaulted projects. These legacy projects are no longer being used to teach to the test but are still full of fun and relevant practice.
We are working on getting the final changes ironed out this week before the school year gets into full swing. By that time, the project files/lesson plans will have all of the correct resources to reflect the recent changes.
We hope this clears things up a bit. Please let us know if you have any other questions!